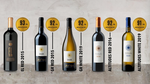 EC Wines & Spirits have launched an islandwide alcohol delivery service in Singapore with an introductory 25% off award-winning wines and spirits with the checkout code "STAYHOME25".

With both old world wines and new world wines to choose from, wine lovers can browse an extensive selection of affordable wines and award-winning wines.

EC Wines currently carries a range of Biodynamic Malbecs from Bodegas Krontiras, a vineyard from Argentina, and its Doña Silvina Fresh Malbec 2017 was awarded Gold by the Singapore Newspaper awards. If you're looking for sparkling wine, Maisa Salat Cava is an organic Spanish Cava that is available as a Brut or Rosé.

Must-try white wines include an affordable Toi Toi's Sauvignon Blanc from Marlborough that is recommended by International Wine Judge Peter Saunders with a rating of 94 points, Gavi di Gavi DOCG by award-winning Italian vineyard Fontanafredda and Chablis and Meursault from Ropiteau that was founded in 1848.
Coveted red wines include Barolo Proprieta and Le Righe Barolo Serralunga d'Alba from Fontanafredda which was founded by the first King of Italy in 1858, the flagship Viu Manent Viu 1 from Chile which was recognised as the "Best Malbec of the Latin American Wine Guide" made by the Master of Wine, Alistair Cooper in conjunction with Catad'Or.
Award-winning Lebanese wines to indulge in are the IXSIR Grande Reserve Rosé that was voted "BWW Best Rosé of The World" in 2021 and the EL IXSIR Red which was awarded 93 points by wine critics James Suckling and Jean-Marc Quarin. 
EC Wines & Spirits are distributors of Lothaire Tourbe Single Malt Whisky from France and Hatozaki Pure Malt Whisky from Japan.
Lothaire II was the king of Lotharingia where this exceptional French Whisky "Lothaire Tourbe Single Malt Whisky '' is distilled. Hatozaki Pure Malt Whisky is aged for several years in ex-bourbon casks, ex-sherry casks and Japanese Mizunara casks, composed of 100% malt whiskies and blended from 5 to 6-year-old single malt, it is only produced in small batches of less than 20 casks.

135 East Hyogo Dry Gin is batch distilled both with essentially Japanese and traditional London Dry style botanicals. The result is a perfect balance of complexity & harmony, a truly Japanese spirit, named after the Akashi Meridian at 135 degrees east longitude which runs past our distillery in Akashi city.

You can now place an order via ECWines.sg. Quote "STAYHOME25" at check out to enjoy 25% off wines and spirits. Free islandwide delivery for orders above $200 within 36 hours. $10 delivery fee applicable for orders below $200.